Editors, USA TODAY
Published 4:11 a.m. ET March 6, 2018

West Virginia teachers strike: Classrooms remain closed … again
The teachers strike in West Virginia enters its ninth day Tuesday as lawmakers plan to weigh in on a possible compromise. The teacher walkout over benefits and pay, among the lowest in the nation, shuttered classrooms Feb. 22. Since then,  angry teachers have marched on the state Capitol to press legislators to raise their pay after four years without an increase. A show of support by thousands of teachers and supporters Monday didn't immediately sway the lawmakers, who failed to agree on a 5% pay raise that would end the strike. 
CLOSE

The statewide strike has kept public schools shut for 277,000 students and 35,000 employees for over a week. (Mar. 5)
AP
Texas holds the nation's first primary election of 2018
The 2018 primary elections kick off in Texas on Tuesday, and early voting turnout has Republicans worried. Democratic turnout for the 2018 midterm primaries in the state's 15 largest counties was nearly twice as high as the totals in 2014, outstripping the Republicans in urban counties in the GOP stronghold. Despite this success, there have been setbacks for grassroots liberal groups who have accused the Democratic Congressional Campaign Committee of attacking Democratic candidates.These primaries will serve as an early test for both parties ahead of November's elections. Sen. Ted Cruz is up for re-election this year as are all 36 of Texas' representatives. 
Military's Africa commander may face questions on Niger ambush
The chief of the military's U.S. Africa command will testify before Congress on Tuesday, just days after the Islamic State released a propaganda video that appears to show a militant ambush in Niger that killed four U.S. soldiers last year. Gen. Thomas Waldhauser is expected to testify before the House Armed Services Committee. The graphic, nine-minute video appeared to be taken from the helmet camera of at least one of the fallen soldiers. The battle near the village of Tongo Tongo on Oct. 4 prompted a Pentagon investigation into whether the soldiers had sufficient training and weapons for the mission.
CLOSE

The U.S. Military is reviewing images supposedly showing dead American Soldiers from the October 4th ambush in Niger. Veuer's Sam Berman has the full story.
Buzz60
Trial over Kansas' voter registration requirements set to begin
A conservative Republican will have to prove his state has a problem with voter fraud if he's to win a legal challenge to voter registration requirements. Kansas Secretary of State Kris Kobach, who is running for governor and was part of President Trump's now-disbanded commission on voter fraud, has long championed a Kansas requirement that people present documentary proof of citizenship — such as a birth certificate, naturalization papers or a passport — when they register to vote. No other state has been as aggressive as Kansas in imposing such proof-of-citizenship requirements, with critics contending that disenfranchised minorities and college students may not have such documentation readily available. The case heads to trial starting Tuesday. 
SpaceX shoots for Falcon 9 launch from Florida
SpaceX notched its 50 successful Falcon 9 rocket early Tuesday, lifting the heaviest communications satellite the rocket has carried yet from Cape Canaveral Air Force Station. The 230-foot rocket roared into darkness from Launch Complex 40 and released Spanish satellite operator Hispasat's 30W-6 spacecraft, weighing more than 13,000 pounds, that will provide high-definition broadcasting and broadband Internet service to Europe, the Mediterranean and the Americas. Tuesday's launch follows last Thursday's successful blastoff of an Atlas V rocket with the newest National Oceanic and Atmospheric Administration weather satellite labeled GOES-S.
CLOSE

2018 ROCKET LAUNCHES FROM THE SPACE COAST

SpaceX launches Hispasat satellite on Falcon 9's 50th mission | 2:00
A SpaceX Falcon 9 rocket takes off on its 50th mission on Tuesday, March 6, 2018, with the company's largest payload contract to date – the Hispasat 30W-6 communications satellite.

1 of 6
CLOSE

2018 ROCKET LAUNCHES FROM THE SPACE COAST

Atlas V launches with GOES-S weather satellite | 2:01
A United Launch Alliance Atlas V rocket launches from Cape Canaveral Air Force Station on Thursday, March 1, 2018, with the GOES-S weather satellite.

2 of 6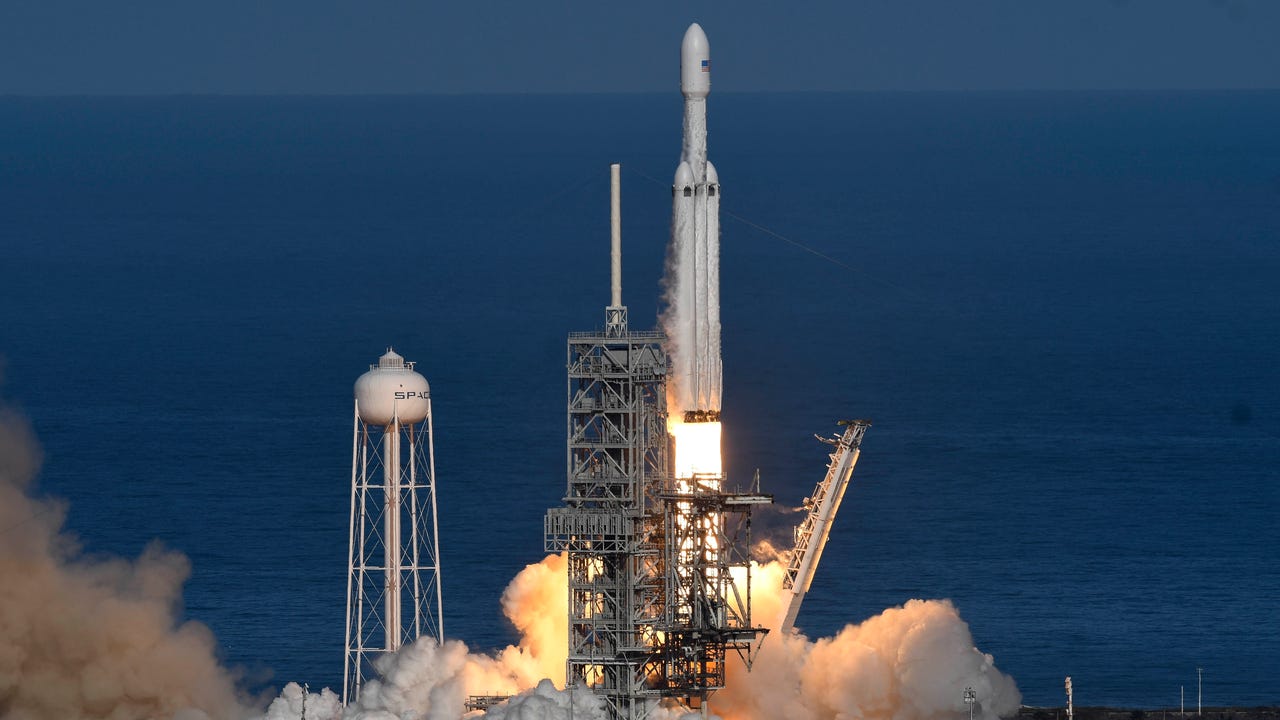 CLOSE

2018 ROCKET LAUNCHES FROM THE SPACE COAST

SpaceX Falcon Heavy rocket launches from KSC, boosters land at Cape Canaveral | 1:34
SpaceX launched its Falcon Heavy rocket from Kennedy Space Center on Tuesday, Feb. 6, 2018 and landed two of the side boosters at Cape Canaveral Air Force Station.

3 of 6
CLOSE

2018 ROCKET LAUNCHES FROM THE SPACE COAST

SpaceX Falcon 9 launches from Cape Canaveral with satellite | 1:30
A SpaceX Falcon 9 rocket blasts off from Cape Canaveral Air Force Station with the GovSat-1 communications satellite on Wednesday, Jan. 31, 2018.

4 of 6
CLOSE

2018 ROCKET LAUNCHES FROM THE SPACE COAST

Atlas V launches from Cape Canaveral with missile detection satellite | 2:01
An Atlas V rocket blasted off from Cape Canaveral Air Force Station in Florida with an Air Force satellite designed to detect ballistic missile launches on Friday, Jan. 19, 2018.

5 of 6
CLOSE

2018 ROCKET LAUNCHES FROM THE SPACE COAST

Watch SpaceX launch the secretive Zuma mission and nail the landing | 0:43
SpaceX successfully launched the secretive Zuma mission from Cape Canaveral on Sunday, Jan. 7, 2018 and landed the Falcon 9 rocket's first stage.

6 of 6
SpaceX launches Hispasat satellite on Falcon 9's 50th mission

Atlas V launches with GOES-S weather satellite

SpaceX Falcon Heavy rocket launches from KSC, boosters land at Cape Canaveral

SpaceX Falcon 9 launches from Cape Canaveral with satellite

Atlas V launches from Cape Canaveral with missile detection satellite

Watch SpaceX launch the secretive Zuma mission and nail the landing
Contributing: The Associated Press
Read or Share this story: https://usat.ly/2oTpdP9