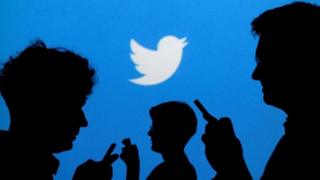 The number of abusive tweets about politicians more than doubled between 2015 and 2017, according to analysis of more than one million tweets.
Twitter insults targeting politicians rose from about 10,000 during the 2015 general election to just under 25,000 in the snap election two years later.
The best-known politicians got a lot of tweets and abuse – but less well-known MPs got proportionally more abuse.
Sheffield University's computer science department carried out the research.
Project leader Kalina Bontcheva said the increase in abuse towards public figures was "shocking".
The study suggests both the volume and proportion of Twitter abuse increased between the two elections.
The research showed abusive tweets made up:
6.6% of Boris Johnson's Twitter timeline in 2015 – and 9.3% in 2017
4.6% of Jeremy Hunt's timeline in 2015, rising to 8.6%
2.5% of Diane Abbott's timeline in 2015, rising to 3.4%
Abusive tweets to Ed Miliband dropped from 5.6% when he was Labour leader in 2015 to 3.3% when he returned to the back benches.
Nearly 600 of the UK's 650 MPs have a Twitter account, which they use to promote their work in their constituencies, show their support for local causes and engage in debate.
But MPs have been warning for several years that the level of abuse they receive has got out of control, with female MPs in particular being targeted, and threats of violence becoming common.
In July, the Conservative MP Nadine Dorries said colleagues were being advised to "close down" their accounts by Parliament's Health and Wellbeing Service.
Shadow Home Secretary Diane Abbott has spoken about the offensive sexist and racist messages and "mindless abuse" she and her staff had to endure every day on social media, not just at election time.
Labour's Paula Sheriff has said the 2017 election had been the "most brutal" to date.
On Thursday, Labour MP Stephen Doughty tweeted an example of an abusive tweet he had reported – and Twitter's response that it did not violate its policies.
He said: "If you wonder why Facebook, Twitter etc are increasingly becoming difficult places, here's another example of abuse we get and the response of the social media companies – who think we deserve a different threshold of abuse 'to allow discourse'."
Responding to the research, Cabinet Office minister Chloe Smith said: "It is vital that we prevent the rising intimidation of people in public office and those who want to stand for election.
"That is why this government is consulting on new measures that will protect candidates and campaigners standing for public service. We can't let intimidation of people in public life continue unchecked."
Last year a report by the Committee on Standards in Public Life said an "intensely hostile online environment" had been created and warned people would be put off from entering politics because of the abuse.