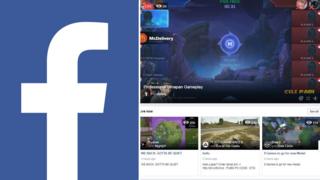 Facebook has launched its own video game streaming platform.
Facebook.gg, which launched on Thursday, will compete directly with popular platforms like Twitch and Mixer.
It's part of the social media site's continued efforts to become a destination for video content.
The new service suggests streams based on who individual users follow on the platform – as well as featured content chosen by Facebook.
At the time of writing 2,900 people are streaming Fortnite on Facebook.gg, while 3,400 play Player Unknown: Battlegrounds.
It points to a slightly different audience for Facebook.gg and the well established Twitch.
According to metrics from Twitch analytics site SullyGnome, Fortnite consistently dominates on Twitch as the most streamed game, while PubG comes in close second.
This push into video game content is not a new venture for Facebook.
Back in January it launched the Gaming Creator Pilot Program, which is its own version of Twitch's Partner Program.
The Twitch Partner Program gives it exclusive rights to the world's most popular streamers and, in return, pays them a portion of the service's advertising revenue.
Facebook's pilot program has attempted to lure streamers away from Twitch and YouTube by offering in-stream monetisation options like viewer tip jars.
The new hub is the next step, offering more discoverability options for streamers who may be finding it hard to make their voices heard on Twitch's crowded platform.
It gives video game streamers on Facebook their own landing page, which makes it much easier for audiences to discover new content away from the chaos of the news feed.
Facebook's quest for gaming content goes back even further though.
Back in 2016 it cut a deal with Blizzard to stream Overwatch on Facebook Live, before bolstering its mobile Instant Games platform with live streaming at the turn of this year.
It also partnered with ESL to broadcast Dota 2 and Counter-Strike Go eSports.
Follow Newsbeat on Instagram, Facebook and Twitter.
Listen to Newsbeat live at 12:45 and 17:45 every weekday on BBC Radio 1 and 1Xtra – if you miss us you can listen back here.