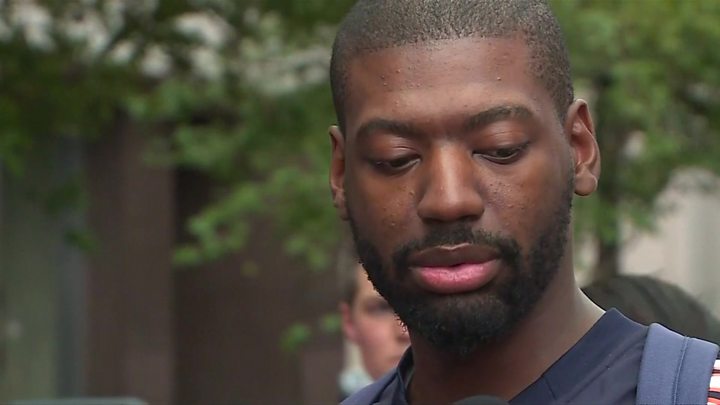 A participant in a video game tournament in Jacksonville, Florida, has shot dead two people before killing himself, police say.
They named the killer as David Katz, 24, from Baltimore and say he used one hand gun. No other suspects are sought.
Eleven other people were injured on Sunday at Jacksonville Landing, a large shopping and entertainment complex.
Some unconfirmed reports say Katz had become angry after losing at the American football eSports event.
The victims are not being officially named until their next-of-kin are informed, although tributes to two gamers have started appearing on social media.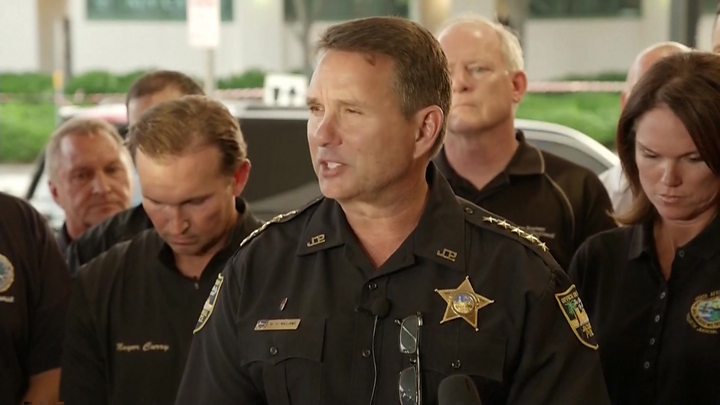 Florida has seen several mass shootings in recent years, including at the Pulse nightclub in Orlando in 2016, when 49 people died, and the Marjory Stoneman Douglas School in Parkland in February this year, when 17 people were killed.
'Worst day of my life'
Participants were playing the American football game Madden NFL 19 at the GLHF Game Bar in Jacksonville Landing when shooting erupted on Sunday afternoon.
A video stream of the event being aired on the Twitch platform appears to show two competitors playing a game when a red dot flashes on one of their sweatshirts, followed by gunfire.
Drini Gjoka, a 19-year-old player taking part, described the shooting in a series of posts on Twitter, calling it "the worst day of [his] life".
He tweeted that a bullet had hit his thumb.
Another competitor Chris "Dubby" McFarland said a bullet had grazed his head.
People fled for shelter when the shooting began and police appealed to them to stay calm as Swat teams checked the area for possible accomplices before it was confirmed that only one gunman had been involved.
Some reports in US media say Katz was a known gamer, using the name "Bread" or "Sliced Bread", and had been the winner of at least one Madden championship in 2017.
He was believed to have been staying in a nearby hotel.
The FBI confirmed its agents had searched the home of Katz's father in the Inner Harbor area of Baltimore on Sunday evening.
'Scared for my life'
Taylor Poindexter from Chicago said she saw the gunman taking aim at people in the room.
"We did see him, two hands on the gun, walking back, just popping rounds," she said. "I was scared for my life and my boyfriend's."
"There were nine victims transported by JFRD [Jackonville Fire and Rescue Department] to area hospitals. Some of those have gunshot wounds. There were two additional gunshot victims that self-transported themselves to local hospitals," said Sheriff Mike Williams.
"Tonight, Jacksonville is mourning. We've faced an occurrence that is all too common that will require us to continue to do the hard work of public safety," said Jacksonville Mayor Lenny Curry.
EA Sports, the company that owns Madden and approved the competition, told the BBC it was "devastated by this horrific event… a senseless act of violence that we strongly condemn".
It sent its heartfelt sympathies to the families of the victims.