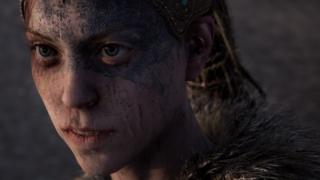 Hellblade: Senua's Sacrifice was the big winner at the Bafta Games Awards, including picking up best performer – which was won by a video editor.
Melina Juergens was asked to stand in for one of the characters and ended up getting the job.
She played the main character, Senua, who is living with psychosis.
"I still can't believe I have a Bafta, it's the highest recognition ever," said Melina.
When accepting the award she called the project life changing, saying "it wasn't just a game".
Speaking to Newsbeat, she said that it was a lot of pressure playing the character.
"Senua is a warrior but at the same time she hears voices that influence all of her decisions.
"And it's a tough role to play, representing a mental health community was a heavyweight on my shoulders."
Melina says they worked closely with health professionals and people who had lived with psychosis.
"I really tried my best to represent everything in the correct way."
And it was well received, with many commending how it handled the mental health condition.
The game was made by a small team of around 20 people in Cambridge and Melina recognised their efforts.
"I am so happy for the team – they've just worked so, so hard these few years and it's so nice to just see all the recognition for their work.
"It felt like a little family that was trying to create something cool, so we all grew very close together."
Melina is now back editing video but hasn't ruled out acting in the future.
And she hopes that the success of such a small, independent game developer can inspire others to follow suit.
"Hopefully we've set an example that you can go out of line and do something different and you don't need a publisher or stick to all the rules.
"I think you can create something very unique and creative.
"I hope that other people will try and do it now as well."
Follow Newsbeat on Instagram, Facebook and Twitter.
Listen to Newsbeat live at 12:45 and 17:45 every weekday on BBC Radio 1 and 1Xtra – if you miss us you can listen back here.