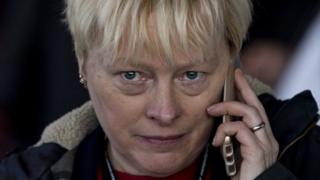 Labour MP Angela Eagle said there were "many ways of skinning a cat" after a Labour member called for the internet to be "nationalised".
Jonathan Cooper said the tech giants had to be stopped from creating "echo chambers of hate".
Ms Eagle agreed that they should be made to work for the "common good rather than private profit".
But she argued that international action was needed to "tame" the social media, data and tech "wild west".
Speaking at a fringe meeting at Labour's conference in Liverpool, the former minister said Silicon Valley was created by libertarians who "look down with disdain on governments and the rule of law".
She claimed tech billionaires were buying "boltholes" in remote parts of the world because "they realise the effects of what the dystopian end of what they are developing might be on society".
"So they want to escape what they have created.
"But it's for governments, representing the people, to say we are not going to allow our societies to be suborned into that kind of dystopian world view."
Facebook's business model – free content in exchange for personal data – had never been debated and had just been presented as a "fait accompli", argued Ms Eagle.
"It's beginning to look a bit sinister," she told the meeting.
'Divisive and nasty'
Social media was a powerful tool which could be harnessed for good but it was increasingly being used by extreme groups "winding each other up" to commit acts of violence in the real world.
"We are polarising and fragmenting our society and getting rid of empathy for the other person," said Ms Eagle, who briefly challenged for the Labour leadership two years ago.
"Some of that is why our politics is so divisive and nasty and hostile at the moment."
She called for an end to user anonymity on the internet and government action to "preserve democracy, the rule of law and our belief in the truth and our capacity to have access to the facts".
Tech giants could be forced by law to change their business model so that data was held for the common good, she suggested.
"Mark Zuckerberg doesn't get to choose. We have to choose," added the Wallasey MP.
Birgitte Anderson, chief executive of the Big Innovation Centre, a London-based tech investment hub, also responded to the nationalisation question.
"I think that would be impossible because the internet is a global thing," she said.
"In some countries nationalisation gives better rules of the game and in other countries it gives worse rules of the game. We need to set global governance around how we use the internet."