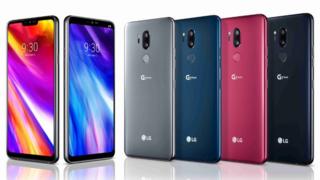 LG's latest flagship phone seeks to stand out from rivals by offering a brighter display and a "boombox" facility meant to make separate speakers unnecessary.
The G7 ThinkQ's 6.1in (15.5cm) screen also features a notch reminiscent of the iPhone X's.
But owners can alter the surrounding graphics to help hide the "dead space".
LG used to be one of the three top selling Android phonemakers, but has seen its position drop in recent years.
In particular, an attempt to release a model that split apart to add new hardware backfired two years ago, tempering the company's ambition to be unconventional.
"LG remains pretty competitive in the mid-range, but at the premium end its smartphone strategy completely let it down," said Ben Stanton from technology consultancy Canalys.
"The modular G5 was a flop. And then when the G6 launched in 2017, it had a premium price but an out-of-date processor.
"Mobile networks have been dropping LG's phones from their ranges as a consequence. And that's a problem – especially in the UK and Germany, where most handsets are sold by the operators."
| Manufacturer | 2017 handset shipments | Year-on-year change | Market share |
| --- | --- | --- | --- |
| Samsung | 317.7 million | +2.0% | 21.7% |
| Apple | 215.8 million | +0.2% | 14.8% |
| Huawei (incl Honor) | 154.2 million | +10.7% | 10.6% |
| Oppo | 111.7 million | +12.0% | 7.6% |
| Xiaomi | 92.7 million | +75.0% | 6.3% |
| Vivo | 87.6 million | +13.4% | 6.0% |
| LG | 55.8 million | +1.2% | 3.8% |
| Industry total | 1.46 billion | -0.5% | 100% |
Source: IDC
Brighter, notchier
LG claims the G7's LCD (liquid-crystal display) screen "outshines the competition" based on the fact that it goes up to 1,000 nits of brightness.
One nit represents the luminous intensity of a single candle.
One of the advantages is that the benefits of high dynamic range video become more obvious.
HDR makes more vibrant images possible, revealing more details in a picture's shadows as well as better representing glints of light and other shiny objects.
YouTube, Netflix, and Amazon are among streaming services to have adopted the technology.
A second benefit is that it becomes easier to see what is displayed when the phone is used in bright sunlight.
Samsung has boasted that its Galaxy S9 handsets' "peak brightness" is 1,130 nits – but this is achieved on only a small part of its screen for a short period of time.
Independent tests indicate the S9's full-screen brightness extends to only about 600 nits, which is still better than the iPhone X's score of about 570 nits.
Manufacturers have avoided going much higher in part because of the extra toll on battery life and a risk of causing images to burn into displays.
The G7's display is also distinguished by the notch carved out at the top, where a camera is based.
This design has been adopted despite the fact that the screen does not quite run "edge-to-edge" like the iPhone X's.
LG refers to the space to the left and right of the black space as a "second screen", in which information including battery power and the data signal can be shown.
However, users have the option of blanking out the whole area if they prefer, or adding a coloured gradient to the sides to make the notch less obvious.
Deep bass
The G7's other standout feature is its in-built loudspeaker.
The company says it can play audio 25% louder than the G6.
But the key innovation is the way it uses empty space inside its chassis to create a "resonance chamber" that helps amplify low frequency sounds.
The result is that when the handset is placed flat on a solid surface, its bass effect is enhanced.
"The surface acts as a subwoofer," said product manager Shaun Musgrave.
"It gives you a fuller sound."
A trade-off is that the audio is mono rather than stereo.
HTC pioneered expanding the internal speaker chambers of a phone to improve loudspeaker playback with its Boomsound facility in 2013.
One expert said the latest development should enhance the G7's appeal to young consumers, even if others would be less impressed.
"There will be a collective groan among a broader cross-section of the population when they hear that another smartphone is emerging with even more sound and bigger bass, which will only serve to become increasingly annoying in daily life," said Ben Wood, from the CCS Insight consultancy.
Other features include:
a dedicated physical button for the Google Assistant smart helper. This cannot be reconfigured for other use
the inclusion of Qualcomm's new Snapdragon 845 processor
a camera feature that analyses the scene to detect which of 19 different shooting modes to employ, including whether to make use of a standard view or wide-angle rear lens
Asian rivals
LG's mobile division is in need of a hit.
Although the company as a whole posted record-sized earnings last week, its smartphone unit recorded a loss and has been in profit in only one of its past eight quarters.
The business was put under new leadership late last year.
But the launch comes in the wake of recent launches by Samsung and Huawei, both of which are running big-budget marketing campaigns.