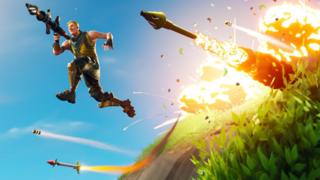 A new mode that let novices practise playing the hugely popular video game Fortnite has been taken offline for repairs after fewer than two hours.
Some newcomers are finding it difficult to compete with more experienced Fortnite players.
The firm behind Fortnite, Epic Games, has said Playground mode will be reinstated and that "multiple teams" are working on fixing it.
One games journalist said Playground would make the game more accessible.
In a post on Reddit, Epic Games said the new mode was "closed for repairs for the night" and that more information would be available some time on Thursday.
"We've got multiple teams working to get this mode back into your hands so you can let your imaginations run wild," the update said.
Fortnite, which has more than 125 million players, has a multi-player "Battle Royale" mode in which people fight each other in 20-minute sessions.
A total of 100 gamers join each session, set on an island, with the person who survives the longest winning.
"A problem for Fortnite [is] you are typically going up against people who have a lot more experience in the game," explained Wesley Yin-Poole, deputy editor of games site Eurogamer.
He added that while each session begins without any one player having a competitive advantage over another, those with more experience can quickly get ahead of newer players.
"You haven't really been able to practise Fortnite before," Mr Yin-Poole said.
"The idea of being able to drop into a relatively relaxed environment and just practise was a fantastic idea."
A version of the game for Android devices is expected this summer, and Mr Yin-Poole said that there is huge interest in it from his website's readers.
"It's going to be massive," he said.
Lawsuit dropped
Meanwhile, a lawsuit that alleged Epic Games had infringed the copyright of a similar video game, PlayerUnknown's Battlegrounds, has been dropped.
It was filed earlier this year by the rival game's maker, PUBG, which is based in South Korea.
The news was reported by Bloomberg, but it was not revealed whether the two firms came to a settlement on the issue.