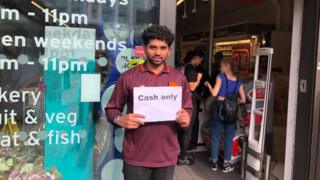 Card payments are failing across the UK and elsewhere in Europe, Visa has said.
The extent of the disruption is not yet clear but customers have been complaining that payments have been denied.
Barclays and Bank of Ireland advised customers to use ATMs to withdraw cash, which appear to still be working.
Visa is working to resolve the issue but one payments firm said transactions were now working intermittently but there was a backlog.
The Payment Systems Regulator told the BBC it understood the problem to be limited to Visa card payments only. Mastercard and American Express both said their networks were working.
Supermarket Tesco said chip and pin payments were not affected, but contactless payments were.
Responding to complaints on social media, HSBC said there were issues with processing Visa payments, which were intermittent, but were "slowly recovering".
Sainsbury's also said it was experiencing problems.
Jay Curtis, 32, is in Swansea and had two cards declined in B&Q this afternoon.
"I had £240 worth of stuff in my trolley. My card just wouldn't go through. I tried and again and then I tried with another card but it still wouldn't go through," Mr Curtis told the BBC.
"I didn't have cash on me so I had to drive all the way home."
The Bank of England, which oversees electronic payment providers such as Visa, said it was "aware of the issue currently affecting Visa and working with the firm to resolve the situation".
However, Paymentsense, which runs card services for small businesses, said that transactions were now starting to go through but there is a backlog.
---
Are you a Visa customer? Have your card payments been affected? You can share your experience by emailing haveyoursay@bbc.co.uk.
Please include a contact number if you are willing to speak to a BBC journalist. You can also contact us in the following ways: